Tri Blend Select*

The Organic, Plant-Based Protein Shake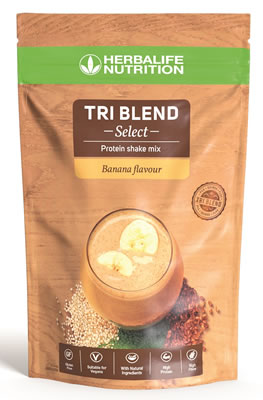 Tri Blend Select is a high protein and low in sugar with ingredients sourced naturally that are plant-based. We searched the planet to source the best possible grade of every single ingredient in Tri Blend Select, like Quinoa from Colombia and Flax Seed from Canada.
Plant proteins sometimes miss the mark because they lack some essential amino acids. However Tri Blend Select includes a blend of pea, quinoa and flax seed to help deliver a plant-based protein that's also impressively high in fibre while being low in sugar.
But low in sugar doesn't mean low on taste. In fact, we became obsessed with making Tri Blend Select taste amazing while keeping it natural.
This product can be purchased on our GoHerbalife Online Shop under Shop Categories > Weight Management > Weight Management Range
Key Product Benefits
With ingredients sourced naturally
634 kJ per serving
20 g protein per serving
6 g of fibre per serving
Vitamin C and 7 key minerals
Suitable for vegans
Gluten free
Organic, Natural Ingredients
From the dense jungles of Colombia to the Canadian prairie, the Tri Blend Select story is woven together by the people, the places, and the philosophy that make it so unique. We scoured the planet to source the best possible grade of every single ingredient.

Pea
Pea protein is easily digested and has a lower allergy risk than common protein sources, such as soy and dairy. Peas have been cultivated in France for thousands of years, which is why we source our peas there. The centuries-long pea production experience, coupled with that famous French gastronomic air, means that our naturally-sourced French peas are of the highest quality..
Flax seed
Traditionally used to relieve abdominal discomfort, flax seed has hidden superpowers: it's high in alpha-linolenic acids (one of the heart-friendly omega-3 fatty acids) and rich in protein, fibre, and minerals like phosphorus, which works with calcium to build bone strength. When cultivated in a northern climate, the alpha-linolenic fatty acid content and iodine value of the flax seed are turbo-charged, which is why we source our brown organic flax seeds from Canada.
Quinoa
Quinoa is highly nutritious and richer in protein, healthy fats, vitamins, and minerals than other grains. Plus, it's gluten-free! We work with family farms in Colombia, which have been growing this nutritious plant for generations.
Their commitment results in what we consider one of the world's highest-quality quinoa. These three are the main proteins that make up Tri Blend Select, but the mix also includes high-quality, locally sourced ingredients such as coconut blossom nectar, chicory root inulin, rice protein powder, oat, acerola cherry, and stevia.
Product Usage
Enjoy Tri Blend Select at anytime during the day. Gently shake the pouch prior to each use as content may settle. Mix 3 scoops (40 g) of powder with 250 ml of water or your favourite alternative milk or fruit juice. Adjust the liquid amount for the consistency you require*.
Enjoy after exercise as a post-workout recovery drink and as a delicious reward for your efforts. A protein shake to accompany your lunch-time salad. Extra protein, extra fibre, extra flavour.
Ideal for baking - from crunch cookies to power packed protein balls. Visit myherbalifeshake.com for recipe ideas. Mix with oats, seeds, berries and yoghurt for nice and easy Overnight Oats - perfect for a personalised breakfast.
*If mixed with fruit juice or other beverage or adjusting the amount of liquid, nutritional values will differ.
A Planet-Friendly Alternative
Tri Blend Select is a complete protein shake blend made up of naturally-sourced, organic, and wholefood ingredients. This product has been formulated to increase fibre and protein intake while also offering key vitamins and minerals and delicious flavors. Tri Blend Select contains a unique combination of pea, quinoa, and flax seed as part of a premium protein blend that provides all the essential amino acids found in a complete protein.

The communities we work with have been farming in the same areas and in the same way for hundreds of years. Tri Blend Select is the product of expert knowledge from farmers who not only grow the very best produce but also nurture the land and protect the environment.
As a result, local habitats are respected and protected, while pesticides and fertilizers are kept to a minimum. That means the land can continue to yield healthy produce and support future generations.