High Protein Iced Coffee*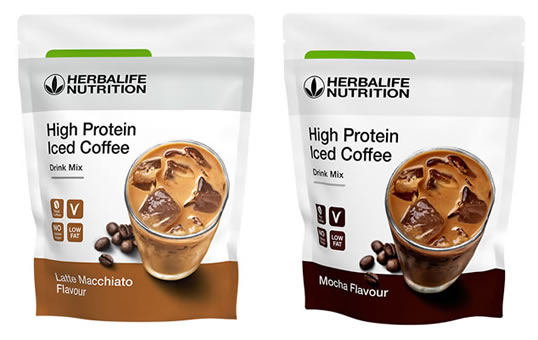 Whether you are on-the-go, or just need a caffeine boost, enjoy our refreshing High Protein Iced Coffee! It's expertly blended with 100% Robusta espresso coffee beans with the benefits of 15g whey protein.
It has no added sugar, no colours or preservatives, suitable for vegetarians and is only 80 Cal per serving. Perfect for those who want an earlymorning and afternoon pick-me-up. It is available in two great tasting flavours, Latte Macchiato and Mocha.
This product can be purchased on our GoHerbalife Online Shop under Shop Categories > Weight Management > Weight Management Range
Key Product Benefits
100% Robusta espresso coffee beans for an authentic coffee taste with 80mg caffeine.
High protein (15g whey protein) contributes to the growth and maintenance of muscle mass.
Low calories (80 Cal) & low fat.
Made with non-GMO ingredients.
Contains no artificial colours or preservatives.
No added sugar - made using a naturally sourced sweetener (Stevia).
Suitable for vegetarians.
Product Usage
Fill your shaker with 320ml cold water.
Add approximately 2 scoops of High Protein Iced Coffee.
Shake and pour over ice. If you don't have a shaker, blend on low speed.
Enjoy this product within a balanced and varied diet, as part of a healthy, active lifestyle.