Personalised Protein Powder*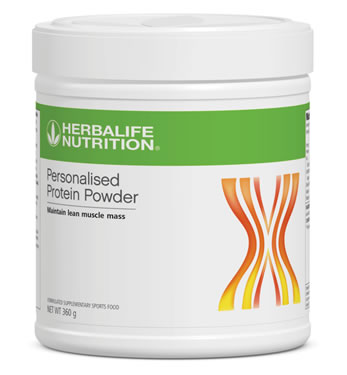 Your body needs adequate protein daily for healthy weight management and peak physical performance. Unfortunately, many dietary protein sources, including meat, cheese and nuts, are also high in unwanted fat and calories.
Personalised Protein Powder is a convenient way to supplement dietary protein, helping you stay lean and fit. Containing 5 grams of protein per 6 gram serving.
This product can be purchased on our GoHerbalife Online Shop under Shop Categories > Weight Management Range or just search on "protein" in the search box.
Key Product Benefits
Boosts protein intake to help fight hunger.
Helps maintain lean muscle mass.
Includes high-quality soy and whey proteins.
Unflavoured and mixes easily in shakes, soups and sauces.
Product Ingredients Listing
Soy Protein Isolate
Soybeans are a great quality protein because their amino acid content is similar to that in meat, and they're a good source of fibre, minerals, and complex carbohydrates.
Whey Protein Concentrate
Whey protein can assist with slowing the rate of loss of muscle mass due to ageing.
Silicon Dioxide (anti-caking agent)
Silicon dioxide, or silica, is a combination of silicon and oxygen, two very abundant, naturally occurring materials. It is found naturally occuring in various vegetables and leafy greens such as kale, beets and alfalfa.
Natural Vanilla Flavour
Product Usage
Take 1 to 4 servings daily. This plain, unsweetened formula can be added to your Formula 1 Shake or stirred into shakes, sauces, soups and more.