Herbalife24 LIFTOFF
(Blackberry Spark)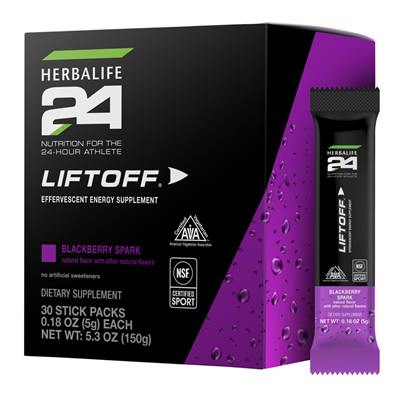 Quick feeling of energy whenever and wherever you need it. Herbalife24 Liftoff is a unique blend of Panax ginseng, L-taurine, caffeine, guarana extract, inositol, vitamin C and B vitamins. Herbalife24 Liftoff is a portable, convenient energy product for use at the gym or in everyday life. And its clean, NSF certified formulation with no artificial flavours or sweeteners means customers can feel good about what they're putting into their body.*

Key Ingredients: Panax ginseng, L-taurine, caffeine, guarana extract, inositol, vitamin C and B vitamins.
This product can be purchased on our GoHerbalife Online Shop under Shop Categories > Energy & Fitness > Herbalife24
Key Product Benefits
Gives you the caffeine boost you need to stay alert and focused
Supports brain function, accelerates memory recall**
Helps reduce the feeling of mental fatigue
Product Usage
Mix one serving (one 5 g stick pack) with 8 fl. oz. of water. Enjoy as a morning or mid-afternoon pick-me-up.
**Temporary benefit based on consumption of Ginseng by healthy young adults.
*These statements have not been evaluated by the Food and Drug Administration. This product is not intended to diagnose, treat, cure or prevent any disease.