Herbalife24 Hydrate*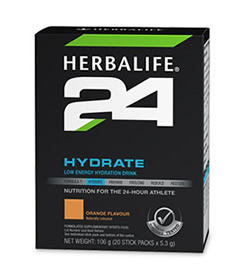 It's simple – performance is tied to hydration. Replenish your body with bioavailable electrolytes to enhance fluid absorption, ensuring you are ready to perform. Hydrate contains 0.16mg Vitamin B1, 0.21mg B2, 0.37mcg B12 and 0.9mgB5.
Herbalife24 is designed based on the latest science. Whether you're a gentle jogger, gym lover or an elite athlete Herbalife24 has products to help you prepare, train and recover. Take training, performance and recovery to the next level with our 24-hour sports nutrition line.
This product can be purchased on our GoHerbalife Online Shop under Shop Categories > Energy & Fitness > Herbalife24
Key Product Benefits
Calorie-free electrolyte drink
Vitamin C Antioxidants
Subtle Orange Flavour
Provides B vitamins (B1, B2, B12) and calcium and magnesium
No artificial colours, no artificial flavours
Supports physically active People
Product Ingredients Listing
Dextrose, Citric Acid, Calcium Lactate, Sodium Citrate, Sea Salt, Potassium Gluconate, Natural Flavours, Magnesium Ascorbate, Dipotassium Phosphate, magnesium Oxide, Silicon Dioxide, D-Calcium Pantothenate, Thiamine Mononitrate, Pyridoxine Hydrocjloride, Cyanocobalamin, Stevia Extract (leaf).
Product Usage
Mix one stick pack with 500mL of water.