Herbalife24 CR7 Drive*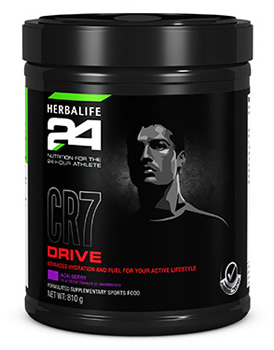 Co-developed with Cristiano Ronaldo, supporting ideal hydration and energy during physical activities. Formulated with ingredients supporting top performance.
CR7 Drive is a carbohydrate-electrolyte drink for maintaining endurance performance during prolonged exercise, perfect for taking during exercise or sports. It is a solution that is proven to enhance the absorption of water during physical activity and help maintain endurance performance*, whether it be an intense game of football or you are hitting the treadmill.
This product can be purchased on our GoHerbalife Online Shop under Shop Categories > Energy & Fitness > Herbalife24
Key Product Benefits
Enhancing hydration with vital electrolytes lost during exercise
Brain-fuelling glucose helps promote quick and accurate game-time decision-making
Lightly flavoured with no artificial flavours
Bioavailable electrolytes
Carbohydrates for energy
Prohibited substance tested
Ingredients Listing
Glucose, sugar (sucrose), maltodextrin, sodium citrate, isomaltulose, citric acid, magnesium citrate, potassium phosphate, potassium chloride, natural flavors, purple grape color, purple carrot color, thiamine mononitrate (vitamin B1), methylcobalamin (vitamin B12)
Product Usage
Mix 1 Scoop (13.5g) of powder with 250mL of water. For moderate workouts consume 1 to 3 servings a day and for endurance workouts consume 2 to 4 servings a day.