Herbalife24 CR7 Drive*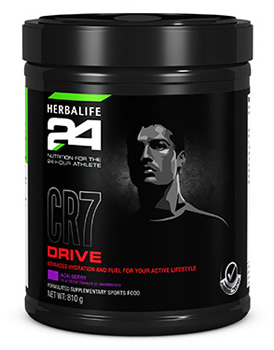 Co-developed with Cristiano Ronaldo, supporting ideal hydration and energy during physical activities. Formulated with ingredients supporting top performance.
CR7 Drive is a carbohydrate-electrolyte drink for maintaining endurance performance during prolonged exercise, perfect for taking during exercise or sports. It is a solution that is proven to enhance the absorption of water during physical activity and help maintain endurance performance*, whether it be an intense game of football or you are hitting the treadmill.
Key Product Benefits
Enhancing hydration with vital electrolytes lost during exercise
Brain-fuelling glucose helps promote quick and accurate game-time decision-making
Lightly flavoured with no artificial flavours
Bioavailable electrolytes
Carbohydrates for energy
Prohibited substance tested