Herbalife24 BCAAs (Green Apple)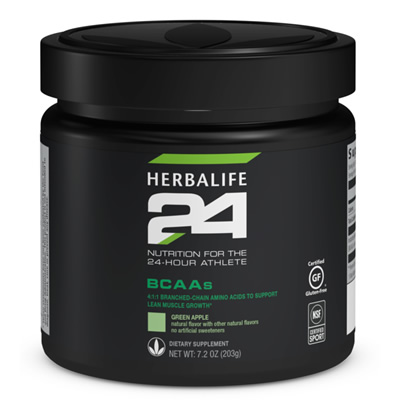 Herbalife24 BCAAs* provides 5 grams of branched-chain amino acids, including 3 grams of leucine, 1 grams of isoleucine and 1 grams of valine to spark lean muscle growth and recovery.* Made with non-GMO ingredients, containing only 25 calories per serving, and with its crisp green apple flavour, Herbalife24 BCAAs is the perfect addition to your healthy, active lifestyle.

Key Ingredients: Branched-chain amino acids; Leucine, Isoleucine and Valine.
This product can be purchased on our GoHerbalife Online Shop under Shop Categories > Energy & Fitness > Herbalife24
Key Product Benefits
Key Benefits
Supports lean muscle growth
Reduces muscle breakdown
Supports muscle recovery
Fuels your workout
Product Usage
Mix one scoop (about 7 g) in 14 fl. oz of water 1 - 2 times a day before or during your workout.