Calming Complex*

(Previously known as Tang Kuei Plus)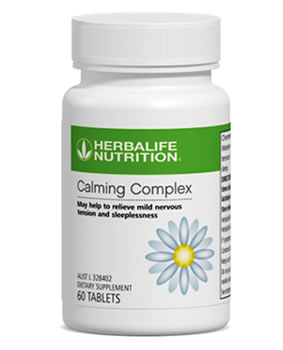 Our Calming Complex has Chamomile which has been traditionally used in Western herbal medicine to relieve nervous tension. Chamomile also supports a restful sleep.
This product can be purchased on our GoHerbalife Online Shop under Shop Categories > Targeted Nutrition Range
Key Product Benefits
Can be used by both men and women
May help to relieve mild nervous tension and sleeplessness
Supports restful sleep
Each tablet contains Tang Kuei & German Chamomile
Key Ingredients
Matricaria chamomilla extract 122.4 mg (equivalent to Matricaria chamomilla flower dry 612 mg)
Angeliga polymorpha (Tang quai) extract 68 mg (equivalent to Angeliga polymorpha root dry 340 mg)
Product Usage
Take one tablet up to three times per day.