RoseGuard Antioxidant Tablets*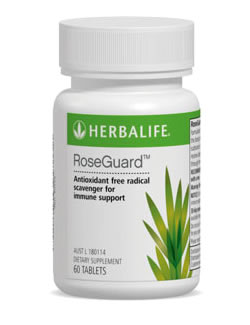 Keep your immune system strong and stay healthy all year long with our immune solutions.
This product can be purchased on our GoHerbalife Online Shop under Shop Categories > Targeted Nutrition Range
Key Product benefits
Antioxidant activity-free radical scavenger.
RoseGuard is beneficial for those who may not receive adequate intake of antioxidants through the daily diet.
Support a healthy immune system.
Key Ingredients
Rosemary leaf, turmeric, astragalus root, Vitamin C, Vitamin E
Product Usage
Adults, take two tablets daily, preferably with a meal.