RoseGuard Antioxidant Tablets*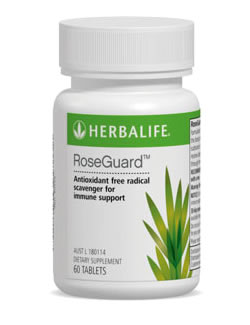 RoseGuard contains effective antioxidant properties, and is formulated to scavenge free radicals which commonly occur in the body due to pollution, food additives and other factors. It also helps the liver to eliminate unwanted waste substances. RoseGuard is beneficial for those who may not receive adequate intake of antioxidants and phytonutrients through their daily diet.
This product is available from our online GoHerbalife Store under "Targeted Nutrition".
Key Product benefits
Antioxidant activity-free radical scavenger.
Antioxidant protection of immune system health.
Supports liver function.
Product Ingredients Listing

Rosemary


Commonly known and widely used as a culinary herb, it contains more than a dozen antioxidants. One particularly potent - rosmarinic acid. Herbalists consider Rosemary as an all-round tonic and providing a natural uplifting effect.

Turmeric Extract


Contains Vitamin E, Vitamin C and carotenoids.

Astragalus Root


Assists in supporting the liver.