Collagen Drink*

Strawberry Lemonade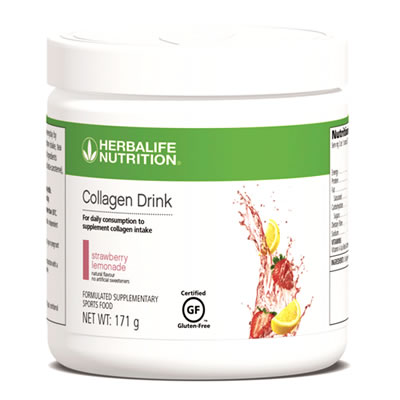 Collagen is a protein that serves as one of the main building blocks for your bones, skin, hair, muscles, tendons, and ligaments. Collagen is what keeps our skin from sagging, giving us that plump, youthful look.
Your body naturally makes collagen, but this production decreases with age. Starting in our mid-20s, we slowly begin to lose collagen. Women can lose up to 30% of collagen production in the first 5 years of menopause.
Because we lose collagen as we age, collagen supplements have become increasingly popular as part of an anti-aging beauty regimen.
Herbalife's collagen product contains bioactive verisol collagen and has the additional benefits of antioxidant vitamins, selenium and biotin. It comes in a powdered form - just add to water for a refreshing strawberry flavoured drink.
This product can be purchased on our GoHerbalife Online Shop under Shop Categories > Targeted Nutrition Range or just search for "collagen" in the search bar.
Key Product Benefits
Formulated with Bioactive Verisol collagen*
Contains antioxidant vitamins, Biotin, Selenium and Zinc
Provides at least 30% RDI of Vitamin C, Niacin, Iodine, Selenium and Zinc
Provides at least 20% RDI of Biotin and Copper
Contains Vitamin A
No artificial flavours or sweeteners
Gluten free
Key Ingredients
High-quality collagen peptides
Antioxidant Vitamins; A (beta-carotene), C & E.
Biotin
Key minerals including Selenium, Zinc, Copper and Iodine
Product Usage
Enjoy Collagen Drink every day. Mix 1 scoop (5.7g) in a glass (240 ml) of water.
*Verisol is a registered trademark of Gelita AG and uses collagen obtained from porcine.