Instant Herbal Beverage*

A low-calorie, powdered green tea mix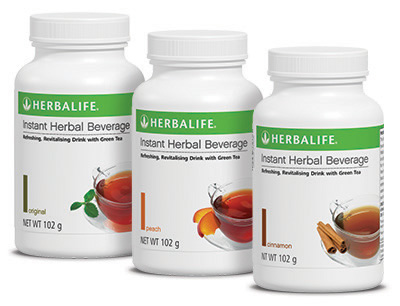 Our Instant Herbal Beverage is infused with extracts from green and orange pekoe tea to support your mental acuity while providing you the additional boost of energy to help you stay focus on your daily tasks.
Herbalife's Instant Herbal Beverage is a delicious and refreshing green tea mix, which can be served either hot or cold. Just mix 1/4 to 1/2 teaspoon of the powder with hot or cold water and stir. It's now available in three flavours - original (lemon), peach and cinnamon. The peach and cinnamon flavoured teas are sweetened with a small amount of Stevia. The original flavour contains no sweetener, but is the most popular of the three flavours.
This product can be purchased on our GoHerbalife Online Shop under Shop Categories > Weight Management > Weight Management Range
Key Product Benefits
Combines ancient herbal wisdom with modern day ingenuity to contribute to your well-being and helps support normal vitality.
Includes the health benefits of green tea and specially selected herbs and extracts.
Ingredients Listing
Green Tea Extract (Camellia sinensis)


Well-researched and shown to be rich in polyphenol antioxidant nutrients; contributes to a general feeling of well-being. Green Tea contains caffeine, generally tea contains one third less caffeine per cup than coffee.

Orange Pekoe Extract


A medium-grade black tea consisting of many whole tea leaves composed purely of new flushes.

Cardamon Seed Extract


Comes from the ginger family of plants. Widely used to treat digestive disorders in traditional medicine.

Malva Sylvestris Extract


Also known as malllow, this gentle herb is often used in herbal teas to hydrate and soothe the digestive system.

Hibiscus Flower Powder


Studies have shown that drinking hibiscus tea can lower high blood pressure and reduce high cholesterol levels.

Lemon, Peach or Cinnamon Flavouring


Gives a subtle hint of flavour to the beverage

Steviol Glycosides (Stevia)


A natural, non-chemical sweetener which adds a slight level of sweetness.

Natural Caffeine Powder

Assists in short term boosting of the metabolism.
Additional Information

First let's talk about green tea and the fact that in hundreds of scientific publications through clinical trials it has been shown to be very beneficial in building the immune system through its abundance of antioxidants. The Herbalife green tea products contain three different strains known for high antioxidant content as well as thermogenic properties which cause the body to burn calories and a nice natural addition of caffeine as a healthy substitute for coffee and sodas all in all a great low-calorie substitute if you're looking for a healthy a alternative. (Christopher Reese, Senior Executive Heath & Nutrition Coach)
Product Usage
Mix ½ tsp (approx 1.7g) with 200-250ml of hot or cold water. Enjoy as often as you like.