Chitosan Fibre Complex*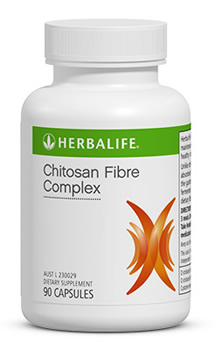 May assist in the maintenance of normal healthy cholesterol levels in healthy individuals. Chitosan Fibre Complex provides 2.7g of dietary fibre per day when consumed as directed.
This product can be purchased on our GoHerbalife Online Shop under Shop Categories >> Weight Management >> Enhancers
Key Product Benefits
Helps support a healthy digestive system.
Supports normal gastrointestinal function.
Each capsule contains 330mg Chitosan and 110mg Fenugreek.
(Note: Take at least one hour after any medication to avoid any reduction in effect of that medication.)
Product Ingredients Listing
Chitosan


An amino polysaccharide derived from Chitin, which is found in the shells of shellfish such as crab and prawns. Chitosan works by binding lipids (fats) in the stomach to aid elimination.

Fenugreek


A soluble fibre renowned for its beneficial qualities, forms a gel in the stomach, taking up room, so you are likely to eat less and feel full longer without hunger pains and cravings.