Herbal Aloe


Everyday Body Wash*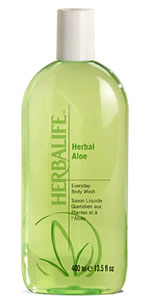 Wash your body from head to toe with a rich, foam lather formulated with whole-leaf aloe. A daily body wash with aloe vera, chamomile and calendula to cleanse and relieve dry skin without stripping the body's natural oils. Can be used on a sponge or loofah in the shower to create foaming lather.

Key Product Benefits
Hydrate and cleanse skin
Enjoy the benefits of aloe all over
Safe and gentle for the entire family

Key Ingredients
Whole-Leaf Aloe, Chamomile Extract & Calendula Flower Extract
Product Usage
In the shower, apply directly to body or wash cloth.